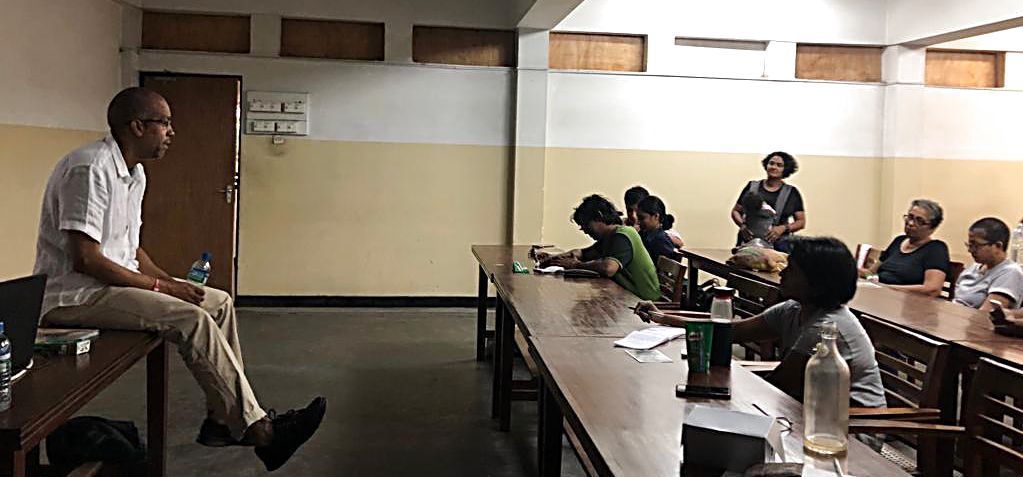 Guest Lecture by Gerard H. Gaskin
Gerard H. Gaskin delivered a Lecture titled 'Legendary: The Performative and Aesthetic History of the Queer African American and Latino House Ballroom Community' at the Department of English on 23rd November 2018 at 4pm.
The Lecture included the discussion of a series of photographs of the queer African American and Latino house ballroom community, both of the competitions themselves as well as portraits of its participants. With a commentary on the use of colour and techniques utilised in taking the photographs, Gaskin also sought to resist the traditional modes of reading 'gender' by refusing to label the subjects of the photographs. He then posed the question as to who, then, defines such gender norms. He expressed his motivations as follows: 'I'm more interested in trying to find as many different ideas in gender and sexuality and try to piece them together so that you get a complete idea of LGBTQ'.
Gerard H. Gaskin is a widely published photographer whose work has appeared in The New York Times, Newsday, Politiken, Black Enterprise, Ebony, Teen People, Caribbean Beat and Inc. Magazine. His work is represented in the permanent collections at Duke University, The Philadelphia Museum of Art, The Museum of the City of New York and the Schomburg Center for Research in Black Culture.
"The balls are a celebration of black and Latino urban gay life. They were born in Harlem out of a need for black and Latino gays to have a safe space to express themselves. Balls are constructed like beauty and talent pageants. The participants work to redefine and critique gender and sexual identity through an extravagant fashion masquerade. Women and men become fluid, interchangeable points of departure and reference, disrupting the notion of a fixed and rigid gender and sexual self. My images try to show a more personal and intimate beauty, pride, dignity, courage, and grace that have been painfully challenged by mainstream society. All of this happens at night in small halls in cities all over the country. These photographs, taken in New York, Philadelphia, Richmond, and Washington, D.C., show us different views of these spaces as they are reflected in the eyes of house and ball members who perform what they wish these cities could be."
–        Gerard H. Gaskin in Legendary: Inside the Ballroom Scene