Welcome Message from the Head of Department of Demography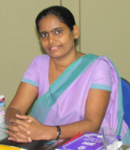 The Department of Demography, University of Colombo is dedicated to serve as the sole academic body of Sri Lanka in providing quality education, training and research in Demography and Population Studies paying special attention to the global, regional as well as national population issues. The Department of Demography was established in 1997 as an upgraded form of former Demographic Training and Research Unit (DTRU), which was set up with the assistance of the United Nations Fund for Population Activities (UNFPA) in 1973.
We are committed to creating and disseminating theoretical and empirical knowledge related to demography and population studies through research, teaching, and various professional and policy contributions. We offer a number of demographic courses both at undergraduate and postgraduate levels. At present, more than 1000 undergraduate students annually follow course modules in Demography. The department has initiated internship programme for the students of final year special degree programme with the intention of developing close contact with the public and private organizations and also to improve students' skills through employability.
Read More >>
Featured posts

Study Programmes in Demography – 2019
The Department of Demography, University of Colombo is calling for applications from the well qualified candidates for the following study programmes (English Medium) up to 05th February, 2019. MPhil / PhD in Demography – 2019 Masters in Demography (MADEM) – 2019 Postgraduate Diploma in Population Studies (PgDPS
Full article
Author's profile