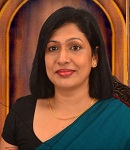 The origin of the Department of Demography goes back to the year 1973 with the establishment of the Demographic Training and Research Unit (DTRU), which was then inducted with the assistance of the United Nations Population Fund (UNFPA). Thereafter, the DTRU contributed significantly to advance the training and research in demography and hence, subsequently, the Department of Demography was established in 1997 as there was a growing demand and recognition to offer Honors Degree in Demography. The Department of Demography in the University of Colombo is a multi-disciplinary department which carries out demographic research and training at both undergraduate and graduate levels. Since its founding, the Department of Demography has been seen a leader in the field of demography as demonstrated by its high levels of scholarly productivity and rigorous teaching programs.
The Department of Demography of the University of Colombo can be regarded as a center of excellence for teaching and research on population and related disciplines and their implications for development. The Department of Demography is an important institution in Sri Lanka for the training of population scientists and generation of high-quality research in population and related disciplines in order to provide explanations for resolving development challenges in Sri Lanka and beyond.
With the academic faculty strength of 17, we have a diverse expertise in areas such as fertility, mortality, migration, urbanization, population ageing, health, climate change, regional planning and related sub-disciplines. The Department offers a lively environment for studying and researching in the areas related to population and sustainable development.
The Department of Demography has been enhancing the human resources needed for the development of innovative approaches in addressing the nexus of features and interrelations between population, health, natural resources, migration and urbanization among others, in ensuring the general well-being of Sri Lankan people. Our faculty's research, teaching and extension work relate to the Sustainable Development Goals which defines Sri Lanka's developmental ambitions. Our faculty has a stimulating history of research collaborations with well-reputed institutions across the world, drawing substantial research funds. Over the years, the Department of Demography has been contributing immensely to the production of knowledge, refinement of policies and generation of solutions to the development issues in Sri Lanka,
You are welcome to explore our engagement through website and do not hesitate to contact us for any further information that you may require. Demography will open up an entire new world of opportunities for you. It will train you to think systematically, critically, analytically, and in a disciplined and informed manner. 
Professor K.D. Manori K. Weeratunga
Department of Demography University of Colombo