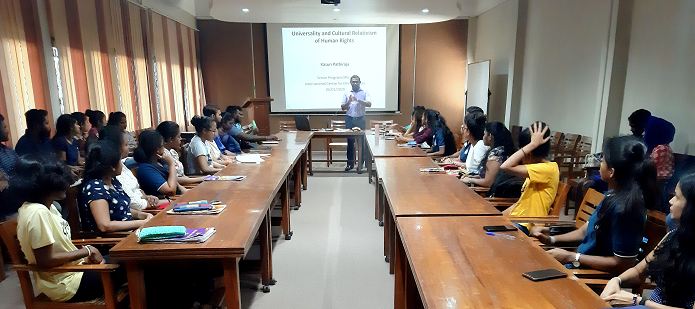 Guest Lecture Series 2020 – Dept. of International Relations – 06th Jan.
The guest lecture on " Rights to Life: Universality vs. Cultural Relativism" was held for the second years following International Relations Special Degree Programme on Human Rights in International Relations. The lecture was delivered by Mr. Kasun Pathiraja, Senior Program Officer, International Center for Ethnic Studies (ICES) on 6th January 2020 from 9.00 a.m to 10.30 a.m at Board Room, Dean's Office.
The lecture highlighted customary norms and legal provisions in human rights and brought the case study on the Myanmar refugee crisis.  The students have offered a star-fruit plant as the token of appreciation to reflect their environmental concerns.