Sinhala Studies Symposium – 2018
Sinhala Studies at Cross Roads

සිංහල අධ්‍යයනයේ අතුරු මාවත්

October 2018

8thAnnual Sinhala Studies Symposium 2018
The 8thAnnual Sinhala Studies Symposium organized by the Department of Sinhala, University of Colombo, is scheduled to be held on 17thOctober 2018 from 9.00am – 06.00pm at the Department of Sinhala. This year the conference theme is "Sinhala Studies at Crossroads" and the event will be extended through following sub-themes enabling a participation of wide range of scholars from both academic and non-academic research contexts across number of subject disciplines.
The conference will accept research proposals from socio-anthropological studies, political sciences, and other related study disciplines of humanities and social sciences. Thus, our goal is to explore ways in which Sinhala Studies overlap across other disciplines.
Sub-themes of the conference are as follows.
Language and Linguistics
Literary Studies
Cultural Studies
Oriental Studies
Socio-Anthropological Studies
Literature Studies
Drama, Performing and Fine Arts
Translation Studies
Gender Studies
Epigraphy and Paleography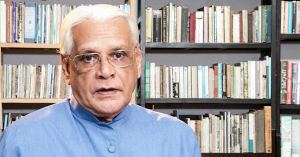 Our Keynote Speaker
Professor Emeritus J.B. Disanayaka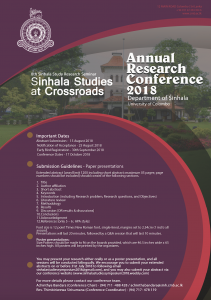 Image Gallery
Sinhala Studies Symposium – 2018

MB Ariyapala Auditorium