Our History and Legacy 
From University College to University of Colombo

1921 – Present
The history of teaching Sinhala in higher education in Sri Lanka is closely linked with the University of Colombo. The formal university education in Pali, Sanskrit and Sinhala – the traditional classical languages of the country, began with the establishment of a University College, in 1921.
In the University College, the oriental languages were all confined in one department of study. It was only in 1944 that separate Department of Sinhala was established under the University of Ceylon in Colombo and Prof. M.D. Ratnasuriya became the first Professor of Sinhala in Sri Lanka.
The Department of Sinhala was shifted to Peradeniya in 1952, when the Faculty of Arts moved there. Subsequently, when a second Faculty of Arts began in 1963 in Colombo, it was established as a sub-department of Sinhala, University of Ceylon, Peradeniya. At the beginning, teaching program was limited to undergraduates, who were reading for the BA General Degree.
With the establishment of the University of Colombo as a separate university in 1967, the sub-department became a fully-fledged Department of Sinhala, under the guidance of Professor M.B. Ariyapala.
At present, Sinhala is one of the popular subjects among the undergraduates and the department offers wide range of course units for General and Special degree programmes in the field of Sinhala language, literature, arts and culture. The department also offers MA, MPhil, and PhD degrees in Sinhala by thesis only.
The Department of Sinhala has a well-qualified staff, with three Professors, five Senior Lecturers, one Lecturer and two Assistant Lecturers. The teaching staff has both local and foreign training and specialization in their respective fields of study and some of its members are well-known for their contribution to the subject. Academics of this department such as Prof. Ediriweera Sarathchandra, Prof. G.D.Wijayawardhana and Prof. J.B. Disanayaka were prominent figures in Sinhala literary and linguistic circles in the island.
As a leading and long standing department of Sinhala amongst the Sri Lankan university system, department expects to introduce various Extension and Postgraduate Courses in Sinhala language, literature and culture for both local and foreign students. At present the Department conducts a Programme on Sinhala language and Culture for two Chinese scholars and also planning to commence a Certificate Course in Sinhala for Foreigners.
The Pali and Buddhist Studies Unit which comes under the supervision of the Head / Department of Sinhala, was established in 1997.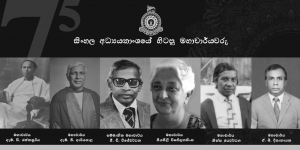 University of Ceylon
Prof. M.D. Rathnasooriya  (1944- 1951)

Prof. D.E. Hettiarachchi (1951- 1968)
University of Colombo
Prof. M.B. Ariyapala (1968- 1979)

Prof. Hemapala Wijewardene (1980- 1985)

Prof. Kusuma Karunaratne (1986- 1991)

Prof. J.B. Disanayaka (1991- 1992)

Prof. Kusuma Karunaratne (1993- 1995)

Prof. Tissa Jayewardene (1996- 1999)

Prof. A.B. Disanayaka (2000- 2002)

Prof. Rohini Paranawithana (2003- 2005)

Prof. Anura Wickramasinghe (2006- 2007)

Prof. Ananda Tissa Kumara (2007- 2009)

Rev. Prof. Agalakada Sirisumana (2010- 2015)

Dr. Latha Gurusinghe (2016- 2018)

Prof. Sandagomi Coperahewa (2019- )