'Golden Jubilee Celebrations'- Inauguration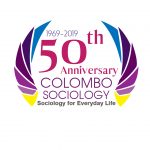 The teaching of Sociology was introduced at the University of Colombo within the Department of Sociology and Social Welfare in the Faculty of Social Sciences in 1969. Today, the Department of Sociology is one of the largest in the Faculty of Arts, with more than 1,000 students following courses in Sociology at both undergraduate and graduate levels of study. In 2019, the Department of Sociology is completing 50 years of invaluable service. To celebrate this milestone, the Department is planning to organize a series of events integrating different levels of sociological experiences spanning from students, academics and everyday people.  The events are consolidated on the main theme 'Sociology for Everyday Life' merging both academic and everyday perceptions of Sociology.
The inaugural ceremony for the celebrations was held on 7th March 2019 at the College House Auditorium of the University of Colombo. The event was attended by undergraduate and postgraduate students,  former academic and non-academic staff of the department, Deans of Faculties, academic staff and administrators of the University, and officials from the government sector as well as the private sector. The keynote address was delivered by Prof Sujata Patel, National Fellow, Indian Institute of Advanced Study on the topic 'Global Social Theory and its Challenge to South Asian Sociology'. The chief guest for the event was Senior Professor Lakshman Dissanayake, the Vice-Chancellor of the University of Colombo. Senior Professor Premakumara de Silva, Dean- Faculty of Arts was the Guest of Honour. The Head of Department Dr Nishara Fernando welcomed the gathering. Two colourful cultural events were performed by undergraduate students. The poster for the upcoming International Symposium was launched at the ceremony. The vote of thanks was delivered by Dr MTM Mahees.