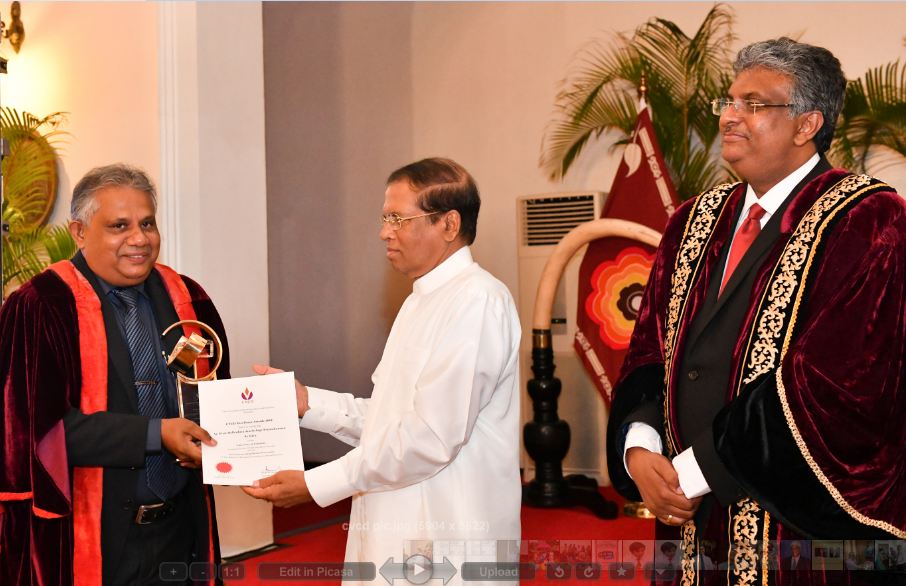 CVCD Excellence Award (2018) to Senior Professor Premakumara de Silva
Senior Professor Premakumara de Silva – Dean, Faculty of Arts, University of Colombo was awarded the Committee of Vice Chancellors and Directors (CVCD) Research Excellence Award – 2018, for the Most Outstanding Senior researcher in the field of Social Sciences, Humanities and Aesthetic.
Professor Premakumara de Silva is currently the Dean of the Faculty of Arts, University of Colombo.  He is a Senior Professor in Sociology and Anthropology attached to the Department of Sociology of the University of Colombo.
Born in Panadura, he obtained his primary at Sirisivalee Maha Vidyalaya and secondary education at Sri Sumangala College, Panadura and achieving the school's best GCE A/L results in the arts stream in 1982.
He then entered the Faculty of Arts, University of Colombo, in 1983 and graduated with an honors Degree in Sociology, (Second Class -Upper Division).  After completing an MA degree in Sociology at the University of Colombo in the year 2000, Professor De Silva continued quenching his thirst for knowledge by successfully completing an MSc and a PhD in Social Anthropology at the University of Edinburgh in the UK.  He has been consistently involved in teaching and assessment of undergraduates and postgraduates in Sociology in Sri Lanka, UK and Australia.  He was awarded an Honorary Research Professorship in Deakin University, Australia in recognition of his contribution to the field of Sociology and Anthropology.
He joined the Department of Sociology of the University of Colombo as a Probationary Lecturer in 1993 and climbed through the ranks consistently to become a Senior Professor in 2017.  As a member of the academic staff in the university, he has been an active contributor to numerous departmental committees as well as faculty-wide and university-wide committees.  He is the founder of the Multi-Cultural Center of the University and he initiated the Newton Gunasinghe Memorial Lecture Series and Dean's Lecture Series in the Faculty of Arts.
Professor De Silva has held many administrative positions in the University ranging from the Head of the Department all the way to the Deputy Vice Chancellor.  As a Sociologist, he always provided his services in improving conditions for students as well as staff members of the university by volunteering for positions such as Senior Student Counselor, Director/Career Guidance Center, Sub-Warden Student Hostel, President-Teachers Association of the Faculty of Arts…etc.   He was the president of Sociological Association of Sri Lanka (SASL) 2007-2009, and the Honorary Council member of Social Scientist Association of Sri Lanka (SSA).
Professor De Silva's research interests include political use of religion and ritual, pilgrimage, nationalism, local democracy, youth culture, Indigenous study, grass-root development, Social Issues, Social Welfare and globalization.  He has published several books in English and local languages, including number of book chapters and over forty articles on his credit. His most recent work (2017) is a co-authored book chapter with Rohan Bastin of the Deakin University,  'Military Tourism as a State-effect in the Sri Lankan civil war' In Military Pilgrimage and Battlefield Tourism (eds.) John Eade and Mario Katic and in 2018  book chapter on  'Colonial  governmentality': Legal and Administrative Technologies of  the Governance of Sri Pāda Temple in Sri Lanka" In  Thomas Borchert (ed.) Theravada Buddhism in Colonial Contexts London: Routledge.
Professor De Silva has won several prestigious international fellowships including British Academy, American Academy of Religion, Sir Radcliffe-Brown and Sir Raymond Firth Fellowship of Royal Anthropological Institute in UK, Award of Commonwealth Countries of University of Edinburgh (Sir Ernest Cassel Award), Overseas Research Student (ORS) award by Committee of UK Vice-chancellors and Wenner – Gren Foundation for Anthropological Research in New York, and several prestigious international research grants including Australian Research Council (ARC) and Economic and Social Research Council of United Kingdom (ESRC).  In 2016, he won the Vice Chancellor's award for the best researcher of the Faculty of Arts, University of Colombo and in 2016 and the Senate award for research excellence in 2017.  He also won the 2018- State Literary Award for the best academic book translated.
Professor De Silva continues to engage in high quality research, with several key projects underway at present too, some of which are in collaboration with the Deakin University in Australia. Considering his significant contribution to the field of Sociology and Social Anthropology, the presentation of the CVCD Excellence Award is indeed a tribute to this eminent scholar.