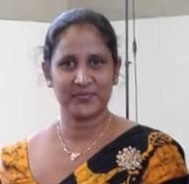 Demise of Ms. A. K. C. Sewwandi – Department of History
It is with deep sadness that the Department of History inform you of the demise of our colleague Ms. A.K.C. Sewwandi, Senior Lecturer, Department of History.  Ms. Sewwandi passed away today (25th April 2019) after being hospitalized over a period of one week.
She joined our department in July 2010 and served as a Senior Lecturer at the time of her demise.
She had been a great source of asset to the Department of History, not only as a lecturer but also performed several administrative tasks as the academic coordinator, student counsellor, Senior Treasurer of the History Society and was a member of committees for student affairs.
She was also a very active member of the Arts Faculty Teacher's Association (AFTA) and contributed immensely for the Federation of University Teachers Association (FUTA) .
The funeral was taken place at 94/10, Boragodawaththa, Gemunu Mawatha, Minuwangoda, om 28th April 2019.