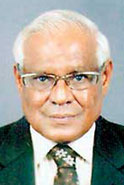 Demise of Professor S.M.P. Senanayake
Retired Professor of the University of Colombo S.M.P. Senanayake passed away on 14th August 2022. He contributed a great deal to the development of teaching and research in Agricultural Economics, Agricultural Marketing, Agri-business Management, Food Security and Nutrition, Micro Finance and Livelihood Development. His humaneness and scholarly contributions will remain in our memory in the years to come. May he attain the supreme bliss of Nirvana.
Professor Senanayake had functioned as a teacher in the Department of Education, as a Research and Training Officer at the Hector Kobbekaduwa Agrarian Research and Training Institute, and as a university academic for nearly four decades. He became a Professor in Economics of the University of Colombo in 2003. During his long and illustrious professional career, he held many positions including Senior Lecturer in Commerce at the University of Peradeniya from 1983 to 1986 and Professor in Economics at Colombo University from 2003 to 2010, Head of the Department of Economics (2001-2004) and Dean of the Faculty of Arts (2004-2010).
Professor Senanayake has more than 40 years of consultancy experience with many institutions and agencies such as the World Bank, Asian Development Bank, USAID, NORAD, GTZ, FAO, UNDP, SARRC, JICA and several NGOs/INGOs.