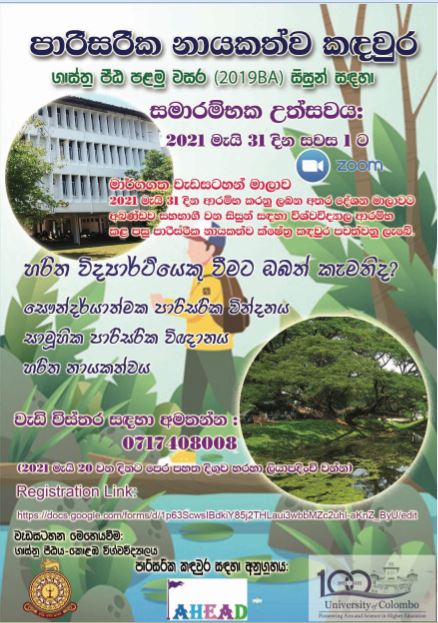 Environmental Leadership Camp – පාරිසරික නායකත්ව කඳවුර – 31st May
---
---
The Environmental Leadership Camp of the Faculty of Arts, University of Colombo was held virtually via Zoom from 31st May 2021 – 4th June 2021 with the participation of over 100 second year undergraduates from the Faculty of Arts, University of Colombo and the Department of Sociology, Faculty of Humanities and Social Sciences, University of Ruhuna. This was a joint initiative in collaboration with the AHEAD Development Project of the Faculty of Arts.
The inauguration ceremony of the Environmental Leadership Camp was held on 31st May 2021 with the presence of the Dean of the Faculty, Senior Professor Lasantha Manawadu. A number of resource persons contributed to  this endeavour to enhance students' awareness on a plethora of environment related spheres. The enthusiasm and active participation shown by students during this five-day virtual workshop revealed the students' interest in this area which gives us hope that our undergraduates will groom to become Environmental Ambassadors for the betterment of the Environment.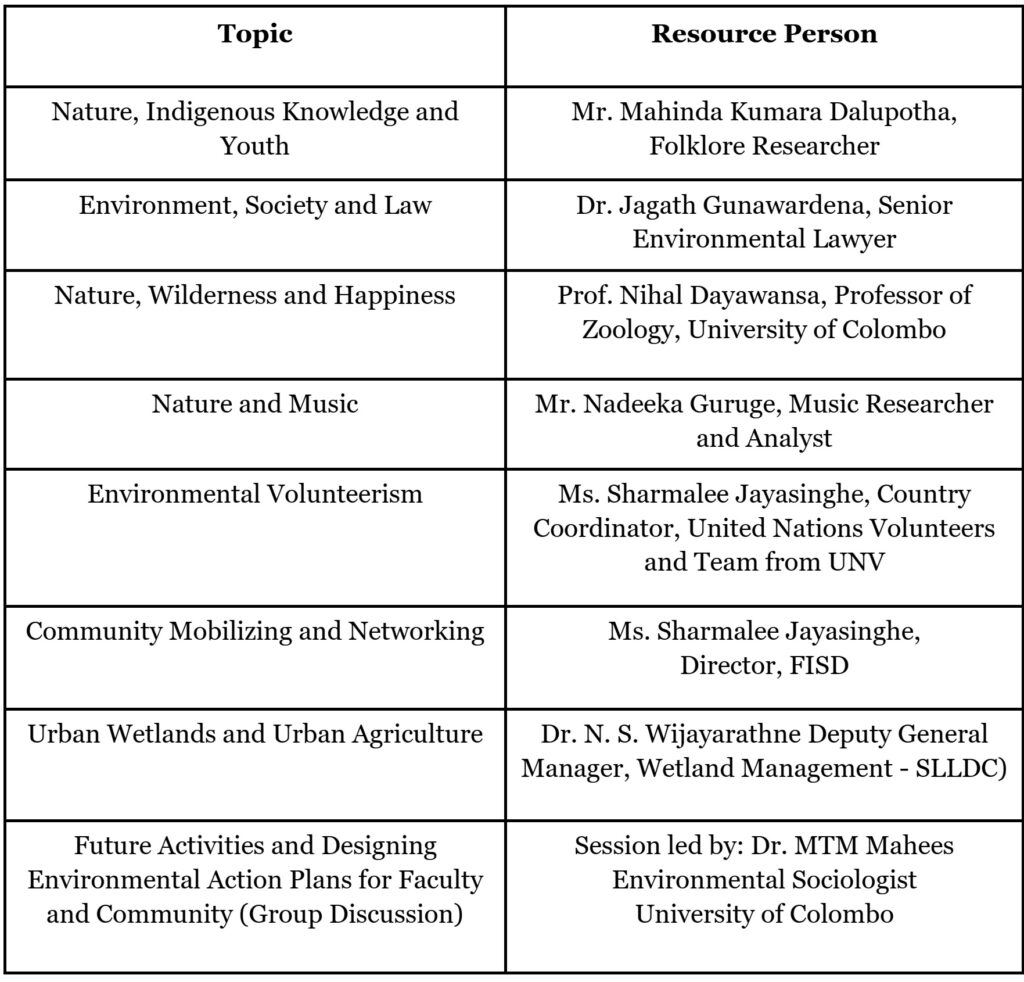 This is the first step of a long term initiative to charter a student based Environmental Society at the Faculty. Further, we have planned to train this group with more hands-on experiences including out-bound training sessions and field excursions when the situation of the country improves.
Organizing committee:
Dr. Mohomed Mahees
Dr. Devi Widyalankara
Dr. Dissanayake Karunadasa
Ms. Gayatri Wijekoon
Mr. H.V.V. Migara Karunarathne
Ms. Chalika Thangaraja
Ms. Anuradha Senanayake
Ms. Ashani Fernando
Mr. P. Krishanthan
Ms. Nadeesha Jayatunga
Mr. Ganushka Randula
Mr. Asithanjana Batuwanthudawa
Ms. D.M.Madhavi Niwarthana Bandara
Ms. Asha Thrishali
Ms. Ishara Jayarathne
16. Mr. Krishnasoban