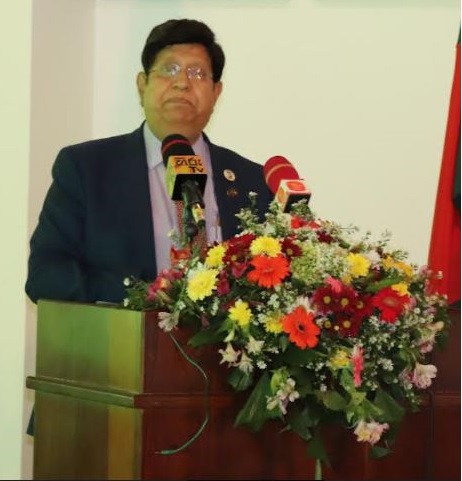 Guest Lecture by the Honorable Foreign Minister of Bangladesh His Excellency Dr. A. K Abdul Momen – 29th March
---
The Department of International Relations , Faculty of Arts  in collaboration with the High Commission of Bangladesh to Sri Lanka hosted the Honorable Foreign Minister of Bangladesh His Excellency Dr. A. K Abdul Momen, , Madam Selina Momen, Honorable High Commissioner of Bangladesh to Sri Lanka His Excellency Tareq Md Ariful Islam, dignitaries from Bangladesh at the Senate Hall of University of Colombo Premises in the presence of Acting Vice Chancellor of University of Colombo, Professor M P P Dharmadasa, Dean faculty of Arts, Senior Professor Lasantha Manawadu, Head of the Department of International Relations , Dr. Chaminda Padmakumara, Academia of University of Colombo and students.
His Excellency Dr. A. K Abdul Momen shared his insights on Bangabandhu's Bangladesh where the country prospered under Stateman Sheik Mujibur Rahman, who is renowned as the founding father of Bangladesh who served as the first president of Bangladesh as well as the Prime Minister.
He illustrated the role of leadership and vision envisioned by Bangabandhu and the significance of standing your ground. He highlighted how despite threats and fears, Bangabandhu could achieve targets towards goals of prosperity; for which he had executed a clear vision through increments. He could further extend and develop targets through obtaining international support. Bangabandhu consolidated a prosperous and progressive country for the citizens through ensuring citizen rights including language rights.
He expounded on the regional political dynamics aspiring for economic revival of the region stating that South Asia can no longer stagnate in poverty and shed light on Bangabandhu's vision for a prosperous South Asia.
The session was successfully concluded with a positive note on strengthening cooperation and partnership between Sri Lanka and Bangladesh.