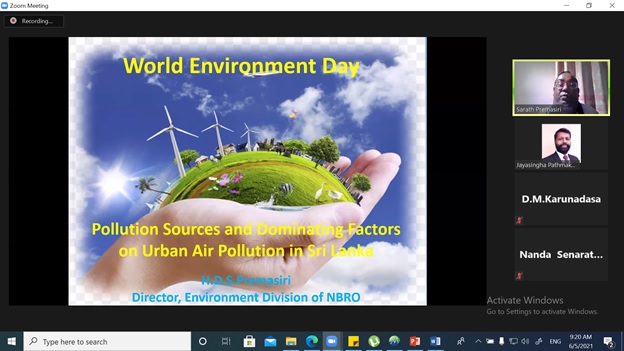 Guest Lecture on 'Pollution Sources and Dominating Factors on Urban Air Pollution in Sri Lanka' – 05th June
In parallel with the World Environmental Day Celebration on 5th June, 2021, the Department of Geography, University of Colombo organized the 3rd lecture of the Guest Lecture series on the same day at 9.00 am.
The guest speaker was Mr. Sarath Premasiri, Director, Environmental Division of the National Building Research Organisation.  He spoke about the present day air pollution sources and common factors that specially cause air pollution in urban Sri Lanka.
The guest lecture was very informative and interactively conducted for nearly two hours. About 80 participants comprising of undergraduate and postgraduate students, professionals of various fields such as academics and disaster management sector and other interested personnel participated.
Short Biography of Mr. Sarath Premasiri.
Sarath Premasiri graduated from the University of Peradeniya, Sri Lanka in 1995 obtained B.SC. (Special) Hons. Degree in Chemistry and obtained postgraduate degree (M.Phil) in 2004 from the same university.
He has complete Postgraduate Diploma in Environmental Management from the University of Moratuwa, Sri Lanka in 2002.
Mr Premasiri is joint to National Building Research Organisation as scientist in 1998 and promoted to Senior Scientist level in 2012 and at present he is the Director of the Environmental Studies and Service Division.  Together with his colleague he has developed air quality monitoring passive samplers techniques and novel sensor based equipment that make used in air quality monitoring network in Sri Lanka.
He has contribute to air quality management in Sri Lanka in many ways and presently serve as a committee member in national air quality management.  He has contribute his knowledge to developed several national guidelines and presently in the committees of guidelines for indoor air quality, cloth mask manufacturing.
Mr. Premasiri have involvement in lot of research activities and have published more than about 60 research articles and papers in national and international journals and symposiums.
At present, his is one of the few expert in the air quality field in the country.