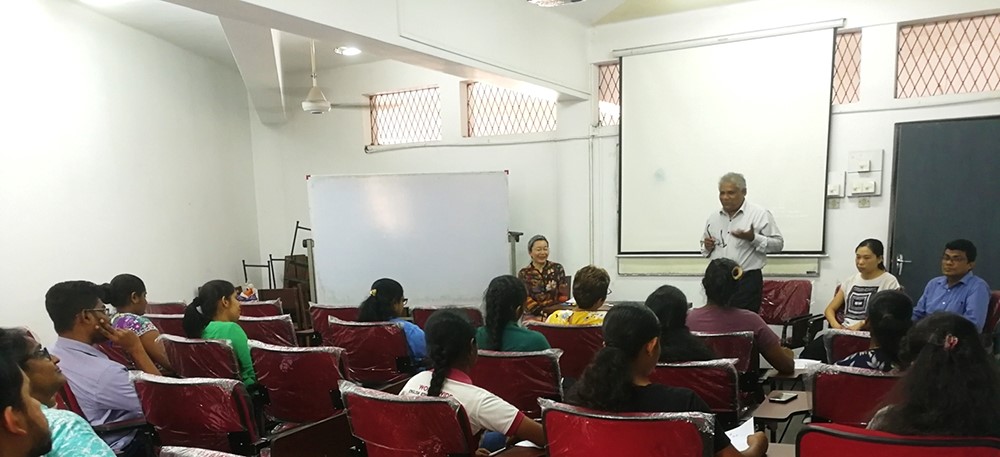 Inauguration Ceremony of the Chinese Language Course for Staff, University of Colombo – 10th March
The inauguration ceremony of the Chinese Language Course for the staff members in the University, was commenced on 10th March 2020 at the Confucius Institute, University of Colombo (CIUoC).  At the very beginning of the new academic year, the Faculty of Arts initiated the program for faculty development by offering Chinese Language Course for all staff in UOC.  Staff members from over 12 offices, departments, units, and centers have joined this course.
It is the first time that UOC offered such a foreign language course for staff. At the course inauguration ceremony, Senior Prof. Premakumara De Silva, Dean – Faculty of Arts said that all the students to take this precious opportunity to learn some Chinese language and to learn more about Chinese culture. He also said that he believed that the communicative skills in Chinese and the knowledge to be obtained in the course with the efforts of all the staff must be very beneficial in their career and understanding of the world.
Dr. Wimal Hewamanage, the Sri Lankan Director of CIUoC, promised that CIUOC would endeavor to provide the best service to all the students by making full use of the resources at the CI. Prof. Huang Wei Chinese Director of CIUoC, noted that it is CIUoC's mission to continuously support UoC members in learning Chinese language culture communication.
The efforts made by the Faculty of Arts, the Confucius Institute of UoC, and most of all the efforts by and passion for improvement of all the staff participating in the program anticipate a promising fruit of the program.