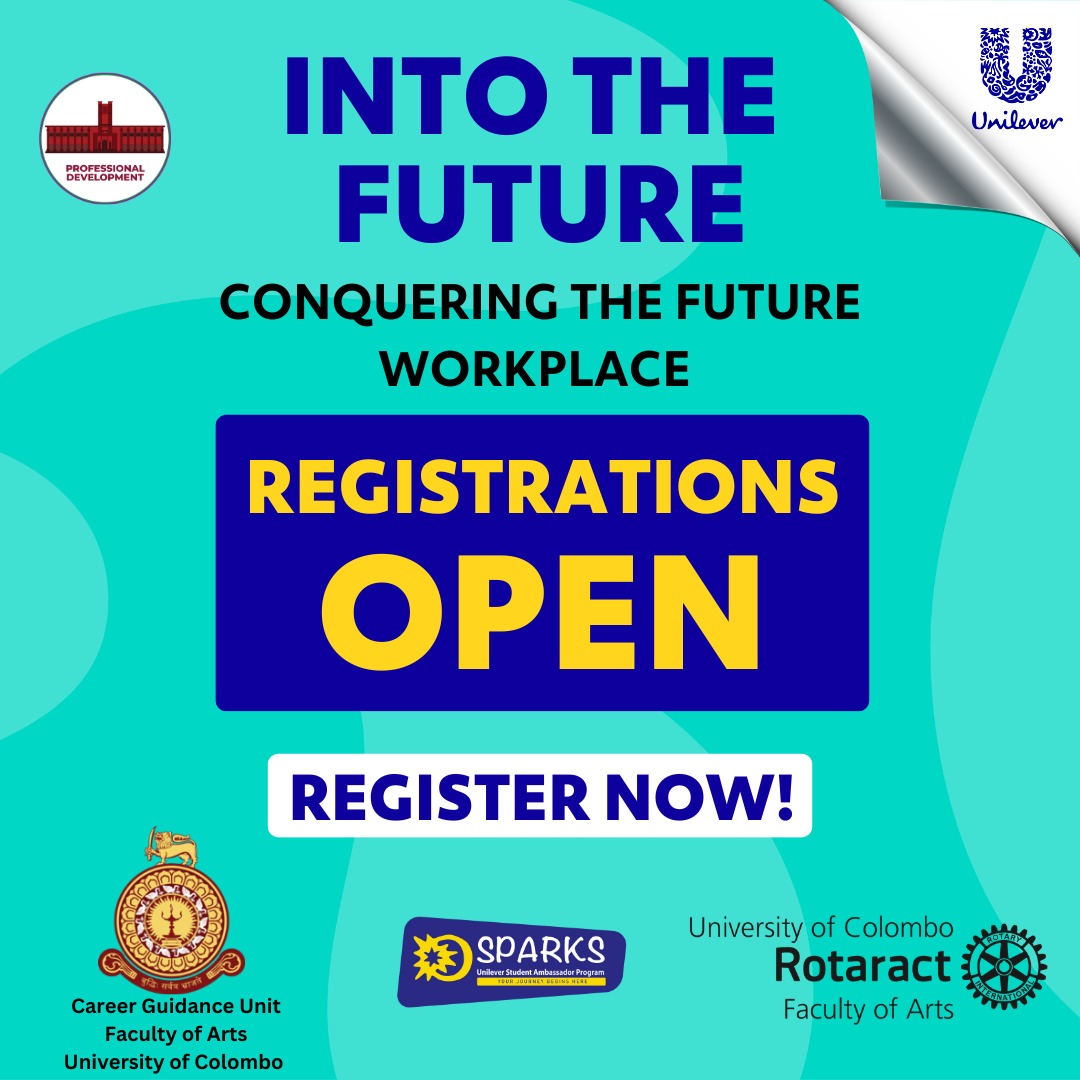 Into the Future – Guest Lecture
Hey undergraduates!
Curious to learn what the future holds for you? What it takes to compete with AI and technology in the future of work? This is your chance!
Into the Future organized by Unilever SPARKS of UOC in collaboration with the Rotaract Club of the University of Colombo Faculty of Arts and the Career Guidance Unit of Faculty of Arts, University of Colombo on;
From 9.00 a.m.-10.00 a.m.
At hall 302, Faculty of Arts
Register Now!!!
ස්වයංක්‍රීයකරණය වෙත පා තබන ලෝකයේ නුදුරු අනාගතය කෙසේ නම් වෙනස් වේවිද? හුදෙක් කෘතිම බුද්ධි සංකල්පයට මානුෂික ක්‍රියාකාරකම් කෙරෙහි බලපෑ හැකිද?
ඔබත් එන්න! අපි කතා කරමු!
ජූලි 18, 2023
පෙ.ව. 9.00 සිට පෙ.ව. 10.00 දක්වා
දේශන ශාලා අංක 302, ශාස්ත්‍ර පීඨය
කෘතිම බුද්ධිය ඔබ පරයා යාමට නොව ඔබේ වෘත්තිමය ජීවිතය ශක්තිමත් කිරීම උදෙසා!
මෙම වටිනා වැඩමුළුව සඳහා ඔබත් ලියාපදිංචි වන්න.
පහත සබැඳිය හරහා ඔබගේ ආසනය වෙන් කරවා ගන්න.