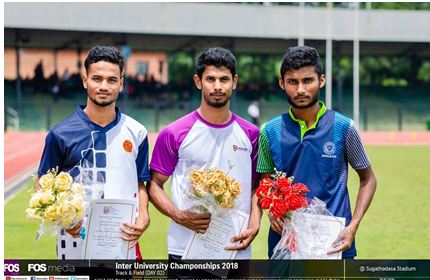 M.S.N. Kumara brings honor to the University – Inter University Championship 2018
The Inter-University Sport Championship is one of the leading events of the calendar of the university system in Sri Lanka. Year 2018 event is important for the Faculty of Arts, University of Colombo.
M.S.N. Kumara (Suresh) helped to bring three (03) gold medals to the University at the 2018 Inter University Championship by winning the first places in 100m men's, and 200m men's, and be a partner of 100m x 4 men's relay team.
Suresh is a final year student at the Department of Economics, specializing in transport and shipping. He was also instrumental in winning the inter department Deans Trophy cricket tournament 2018.