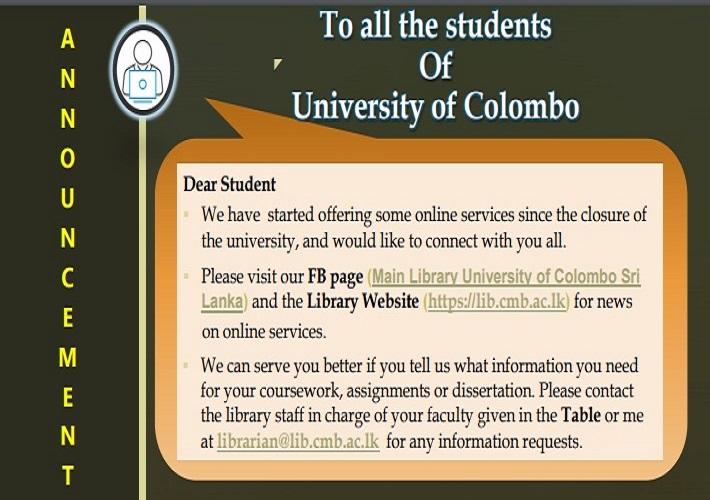 Message to all students from the Library
Dear Students
We hope that you are all safe and healthy. Our services were very limited to you during the past few weeks when we had to close the library have worked to get some online resources accessible from home for the teachers. Through your LMS you can access JSTOR databases, and we are trying to get the other databases as well.
Until then, the library staff is very happy to provide whatever information you need for your coursework, assignments or research project. We have formed a group of Senior Asst. Librarians and Asst. Librarians to serve different faculties. Please check the attached Table to know who is the person assigned to your faculty.
Do not hesitate to drop an e-mail if  you need any journal articles from our databases . Emerald, Taylor & Francis, Oxford, JSTOR, Hein Online or any advice on using information. If you do not know any specific article to request, please send us your assignment or research topic and we will find relevant information for you.  It would help us to send you the most relevant articles, if you explain your topic in one or two sentences.
Thank you and wish you all the very best
Thank you
Mrs. P.  BA (Peradeniya); Mlib (Wales); PhD (Colombo); MIS (Canberra);
MA (Colombo); FSLLA; FCILIP
Librarian, University of Colombo
– Consortium of Sri Lankan Academic Libraries (CONSAL)