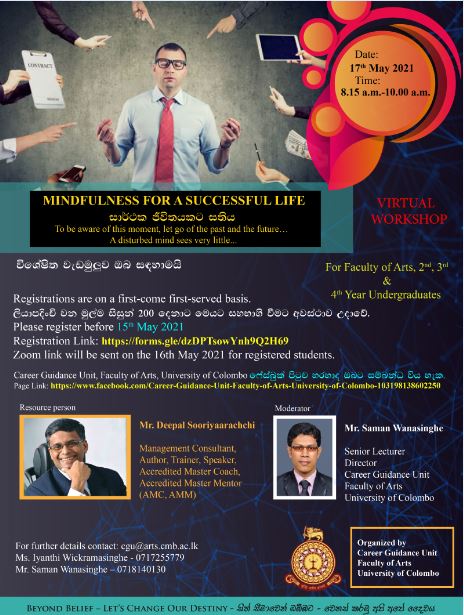 Mindfulness for a Successful Life – සාර්ථක ජීවිතයකට සතිය – 17th May
MINDFULNESS FOR A SUCCESSFUL LIFE
සාර්ථක ජීවිතයකට සතිය
To be aware of this moment, let go of the past and the future…
A disturbed mind sees very little…
For Faculty of Arts, 1st, 2nd, 3rd & 4th Year Undergraduates
විශේෂිත වැඩමුලුව ඔබ සඳහාමයි.
VIRTUAL WORKSHOP
Date: 17th May 2021
Time: 8.15 a.m. -10.00 a.m.
Registrations are on a first-come first-served basis. ලියාපදිංචිවන මුල්ම සිසුන් 200 දෙනාට මෙයට සහභාගී වීමට අවස්ථාව උදාවේ.
Please register before 15th May 2021
Registration Link: https://forms.gle/dzDPTsowYnh9Q2H69
Zoom link will be sent on the 16th May 2021 for registered students.
If you have any questions regarding "Mindfulness" please let us know before hand, so that the session can be more effective on you.
Career Guidance Unit, Faculty of Arts, University of Colombo ෆේස්බුක් පිටුව හරහාද ඔබට සම්බන්ධ විය හැක. Page Link: https://www.facebook.com/Career-Guidance-Unit-Faculty-of-Arts-University-of-Colombo-103198138602250
Beyond Belief – Let's Change Our Destiny – සිත් සීමාවෙන් ඔබ්බට – වෙනස් කරමු අපි අපේ දෛවය
For further details contact: cgu@arts.cmb.ac.lk
Ms. Iyanthi Wickramasinghe – 0717255779
Mr. Saman Wanasinghe – 0718140130