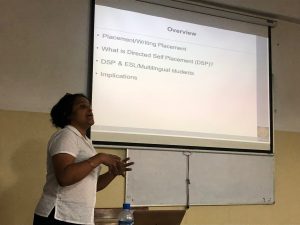 Talk by Dr. Priyanvada Abeywickrama – 25th June
Dr. Priyanvada Abeywickrama delivered a talk titled 'Directed Self-Placement for Multilingual Students in Writing Programs' at the Department of English, University of Colombo on 25 June 2019 at 4pm. During the session, Dr. Abeywickrama examined the potential of Directed Self-Placement (DSP), which is a self-evaluation process that asks students to place themselves in writing courses, for L2 and its use in placing ESL/Multilingual students in university writing classes. She noted that while very little research on DSP has been done in relation to ESL/Multilingual writing placement, it has been implemented effectively in writing programs with students from diverse linguistic and cultural backgrounds (Inoue 2009) and has potential in conjunction with some type of writing assessment (Ferris et al., 2017).
Dr. Priyanvada Abeywickrama is an Associate Professor in the MA TESOL Program in the English Department at San Francisco State University. She coordinates the MA TESOL Program as well as teaches courses in developing curriculum and assessments; teaching listening and speaking, and supervising student teaching. In addition, she coordinates the Composition for Multilingual Students (CMS) Program where she advises students and recommends them into the various required writing courses. Her research focuses on issues of validity and authenticity of assessments. She is co-author with H. D. Brown of Language Assessment Principles and Classroom Practices (3ed).