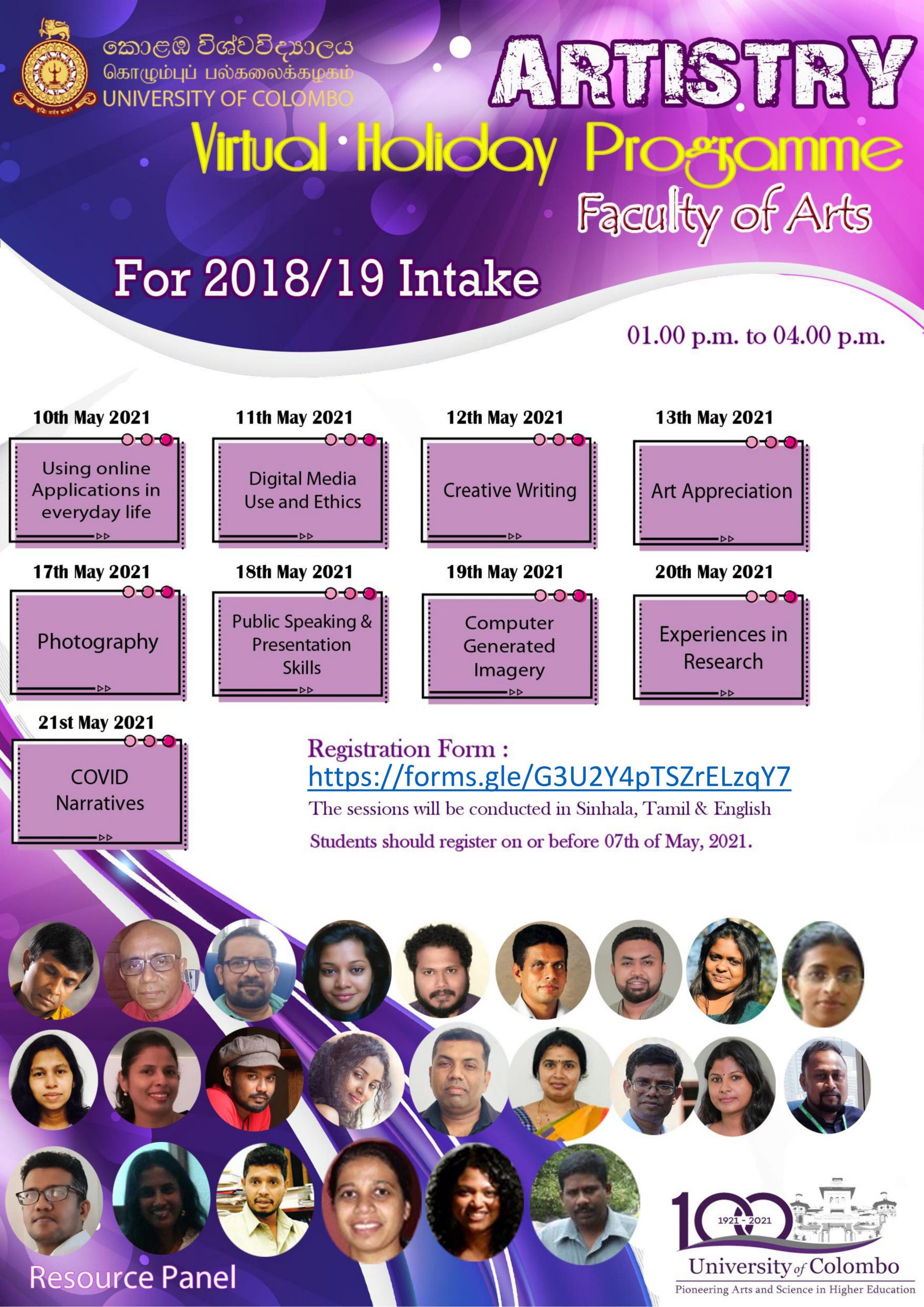 ARTISTRY – Virtual Holiday Programme
'Artistry'- Virtual Holiday Programme organised for the 2018/2019 intake was held online from 10th May 2021 to 21st May 2021. The objectiv犀利士
e of the programme was to create a forum for students to develop skills that are necessary for their careers and adult life. Though 461 students registered for the programme only an average of about a 100 joined each session listed below. However, the programme was greatly appreciated by the students who participated. All sessions were accommodated in all 3 languages. Ten photographs were selected from those submitted for the Photography Competition that was arranged under the session on Photography. The winning photos are displayed on the Faculty webpage. The programme was conducted by experts from within the Faculty and outside. Lists of names of the organising committee and resource persons who contributed to the success of the programme are given below.
Programme line-up
10th May 2021- Using online Applications in everyday life
11th May 2021- Digital Media Use and Ethics
12th May 2021- Creative Writing
13th May 2021- Art Appreciation
17th May 2021- Photography
18th May 2021- Public Speaking & Doing a Presentation
19th May 2021- Computer generated imagery
20th May 2021- Experiences in Research
21st May 2021- COVID Narratives
Organising Committee
W.Gamlath-Student Computer Unit
Asitha Batuwanthudawe-Student Computer Unit
Neranjala Sumathipala-Department of Demography
Methzika Kariyawasam- Journalism Unit
Saambhavi Sivaji-Department of English Language Teaching
Joseph  Francis-Department of Economics
Luxshe Hariharan-Department of Sociology
Rewathy-Department of Geography
Madhavi Bandara-Department of Demography
P.Krishanthan-Department of Geography
Krishan Siriwardhana-Journalism Unit
Chalika Thangaraja-Journalism Unit
Dr. Tharindi Udalagama-Department of Sociology
Resource Persons
Leo Nirosha Darshan-Virakesari Newspaper
Nawarathna Gamage
Indika Upamali-University of Visual & Performing Arts
Sarasi Nethmini
M.R.C. Niluckshi-University of Colombo School of Computing
Mangala Keerthi de Pasquel-Department of Mass Communication, University of Kelaniya
Anusha Sivalingam-Sri Palee Campus
Chamila Somirathne
Snr. Prof. Samantha Herath-Journalism Unit
Prof. K Amirthalingam-Department of Economics
Prof. Neluka Silva-Department of English
Dr M.T.M. Mahees-Department of Sociology
Dr. Shravika Amarasekere-Department of English
Dr. Dinithi Karunaratne-Department of English
Dr. Pradeep Peiris- Department of Political Science and Public Policy
Dr. Tharindi Udalagama-Department of Sociology
Dr. Jayanthi Bandara-Department of Sinhala
Dhamma Disanayake- Department of Political Science and Public Policy
Samudrika Sylva-Department of English Language Teaching
Indrajith Aponsu-Department of Economics
Faslan Mohommed-Department of Political Science and Public Policy
Ruhani Perera-Department of English
Chalika Thangaraja-Journalism Unit
Asitha Batuwanthudawe-Student Computer Unit
Krishan Siriwardhana-Journalism Unit
Luxshe Hariharan-Department of Sociology