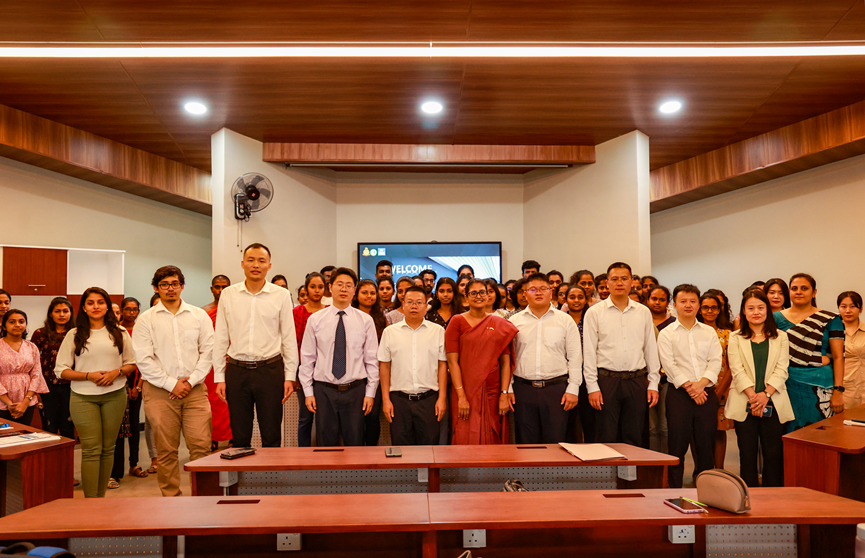 Visit of the China State Construction Engineering Corporation (CSCEC)
The First Public – Private Enterprise Cooperation programme of the CIUC 
Visit of the China State Construction Engineering Corporation (CSCEC)
The Confucius Institute at the University of Colombo launched a new project aiming at giving internship opportunities for undergraduates following Chinese language at the Faculty of Arts. At the initial stage Chinese Director of the CIUC Prof. Ma Zhongwu and his team identified the Chinese companies established with a strong foothold in Sri Lanka and were visited at several instances to discuss about this new 'project'. Detailed but rewarding discussions were conducted on student training, cultural exchanges and private – public collaborations. As a result, on August 11, 2023 the Sri Lanka branch of China State Construction Engineering Corporation (CSCEC) paid a visit to the University of Colombo to meet students of the Chinese stream at the Faculty of Arts. This marked the first of such visits in terms of Public – Private Enterprise Cooperation programme of the CIUC, which is the prime project of 2023.
Prof. Anuththaradevi Widyalankara, Sri Lankan Director of the CIUC warmly welcomed Deputy General Manager of the CSCEC, Mr. Liu Bingquan and his delegation. Mr. Liu thanked both directors of the CIUC for inviting them to have a student-centered gathering which he thought had created good platform to introduce the Company and its major construction projects that are being in progress at present. It was revealed that they have been engaging in the construction industry of the country as a foreign enterprise since 1960s. The projects run by the CSCEC include infrastructure development, water conservancy, constructing tunnels, apartments, hotels, shopping malls and other fields. After years of struggle, the company has now become a major engineering construction contractor in Sri Lanka.
Professor Ma Zhongwu, the Chinese director of the CIUC, sincerely thanked Mr. Liu and his team for taking the time to walk into the campus and have a close conversation with students, providing them with a better understanding of "Chinese-funded companies" and giving full confidence to students to continue learning Chinese well which he emphasize its necessity in the future to accomplish their employability. Mr. Ai Shiqiang, Human Resources Manager of CSCEC Sri Lanka Branch, made a detailed presentation covering the previous and current projects of CSCEC Sri Lanka Branch.
During the Q &A session students raised questions and representatives of the CSCEC responded them which not only relieved the concerns of the students but encouraged them to work hard during their studentship. To strengthen the public – private enterprise cooperation and to bring high level achievements of undergraduates following Chinese language at the Faculty of Arts, the CIUC has a long way to go. We will keep our mission in mind and forge ahead.