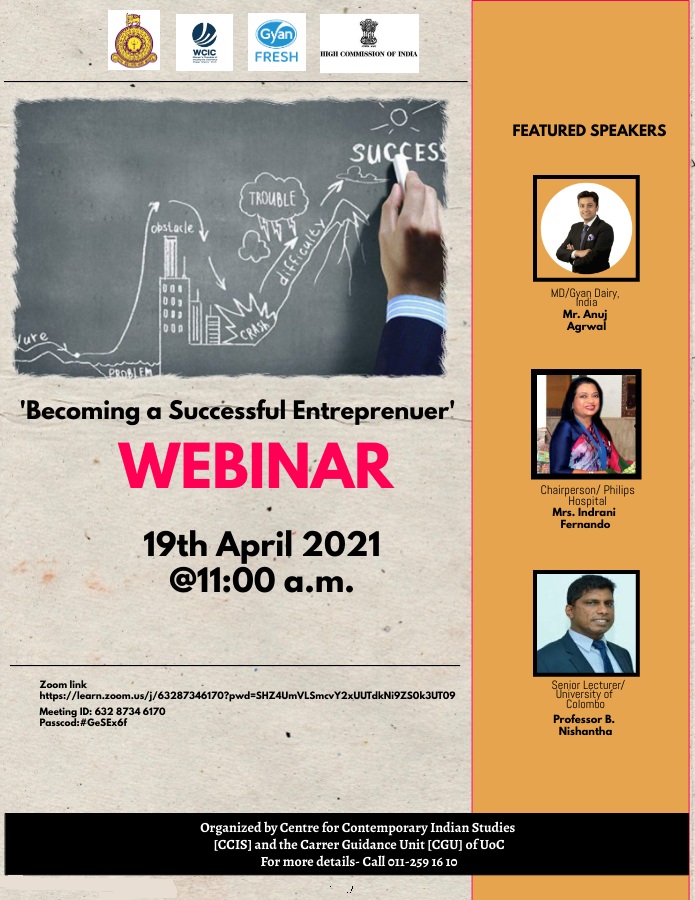 Webinar on "How to Become a Successful Entrepreneur ? " – 19th April
Join Zoom Meeting

https://learn.zoom.us/j/63287346170?pwd=SHZ4UmVLSmcvY2xUUTdkNi9ZS0k3UT09
How to Become a Successful Entrepreneur?
Aim
·         Personal experience of becoming an entrepreneur, challenges and how to face them
·         Motivating young undergraduates on entrepreneurship
Target Audience– Undergraduates of University of Colombo
Speakers– Mr Anuj Agrawal (MD/ Gyan Dairy, India) Starting small in 2007, Today Gyan is the biggest private dairy in Uttar Pradesh.
Owing to Mr Anuj's consistent efforts, Gyan had access to world-class technology right From day one and ensured the success and profitability of the company in the first year. He is the Chairman of the CII YI (Young Indians) and a member of Prime Minister Shri Narendra Modi's Champions of Change mission. Mr Anuj is a regular at several management programmes at Oxford, Harvard, and other leading universities. In 2016, he was honoured with the 'Young Entrepreneur of the Year Award' at the 'Brand India Summit'.
Ms. Indrani Fernando – Chairperson/ The Women's Chamber of Industry and Commerce and the Chairperson/ Philips hospital