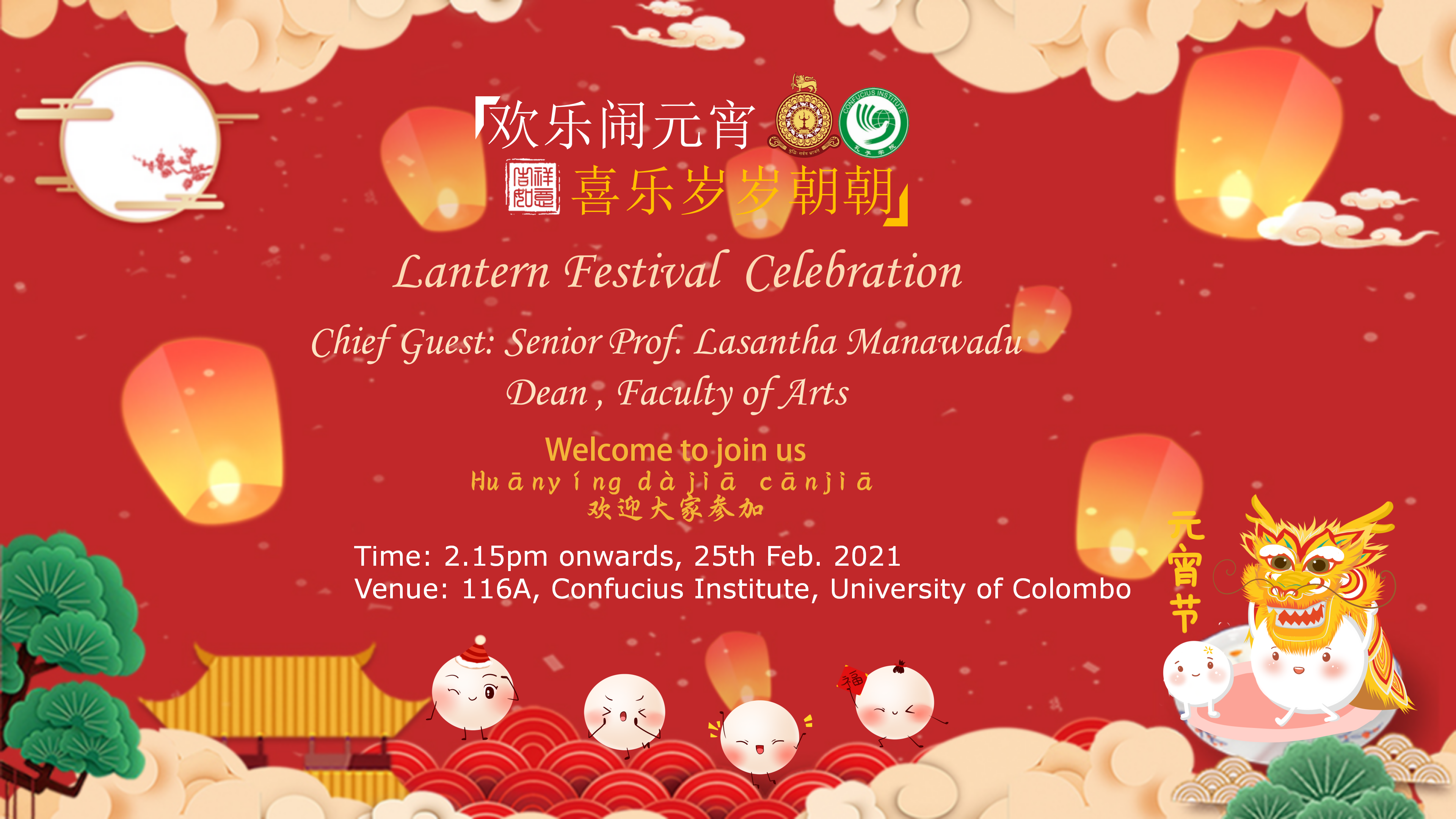 Yuanxiao Jie – Lantern Festival – 25th Feb.
The Confucius Institute, University of Colombo celebrates the traditional Lantern Festival on the 25th February 2021, with the participation of Senior Prof. Lasantha Manawadu, the Dean, Faculty of Arts.
The ancients have referred to the first month of the lunar calendar as "Yuanyue" and the term night is suggested by the expression "Xiao". The fifteenth of the lunar month is generally considered the first full moon of the year and is named the "Yuanxiao Jie" or Lantern Festival. On this night, the Chinese light up thousands of colorful lanterns, go out to admire the moon, guess the answers to riddles, taste "Yuanxiao" together, and reunite with their families to celebrate this festival. The traditional date of the Lantern Festival falls on the 26th of February 2021.
The history of the Lantern Festival dates back to more than two thousand years where its roots are set in the Han Dynasty. During the Lantern Festival, the Chinese "guess lantern riddles" which is also called "playing lantern riddles." The Chinese write the riddles on a strip of paper and paste them on the colorful lanterns for others to guess because riddles are known to enlighten wisdom and interest.
Eating Yuanxiao during the Lantern Festival is also an important Chinese custom. "Yuanxiao" is made of glutinous rice, shaped like balls. It can be boiled, fried, steamed, or fried. At first, people called this kind of food "Floating Yuanzi", and later it was called "Tang Tuan" or "Tang Yuan". These names have similar sounds, and represent a the idea of reunion(团圆tuányuán) symbolizing family reunion, harmony, and happiness. Such reunion and participation in traditional events foster good wishes for the future.
Today, numerous activities are included in the Lantern Festival. Many local Chinese have added traditional folk performances such as dragon lanterns, lions, walking on stilts, rowing dry boats, twisting Yangge, and the playing of Taiping drums.