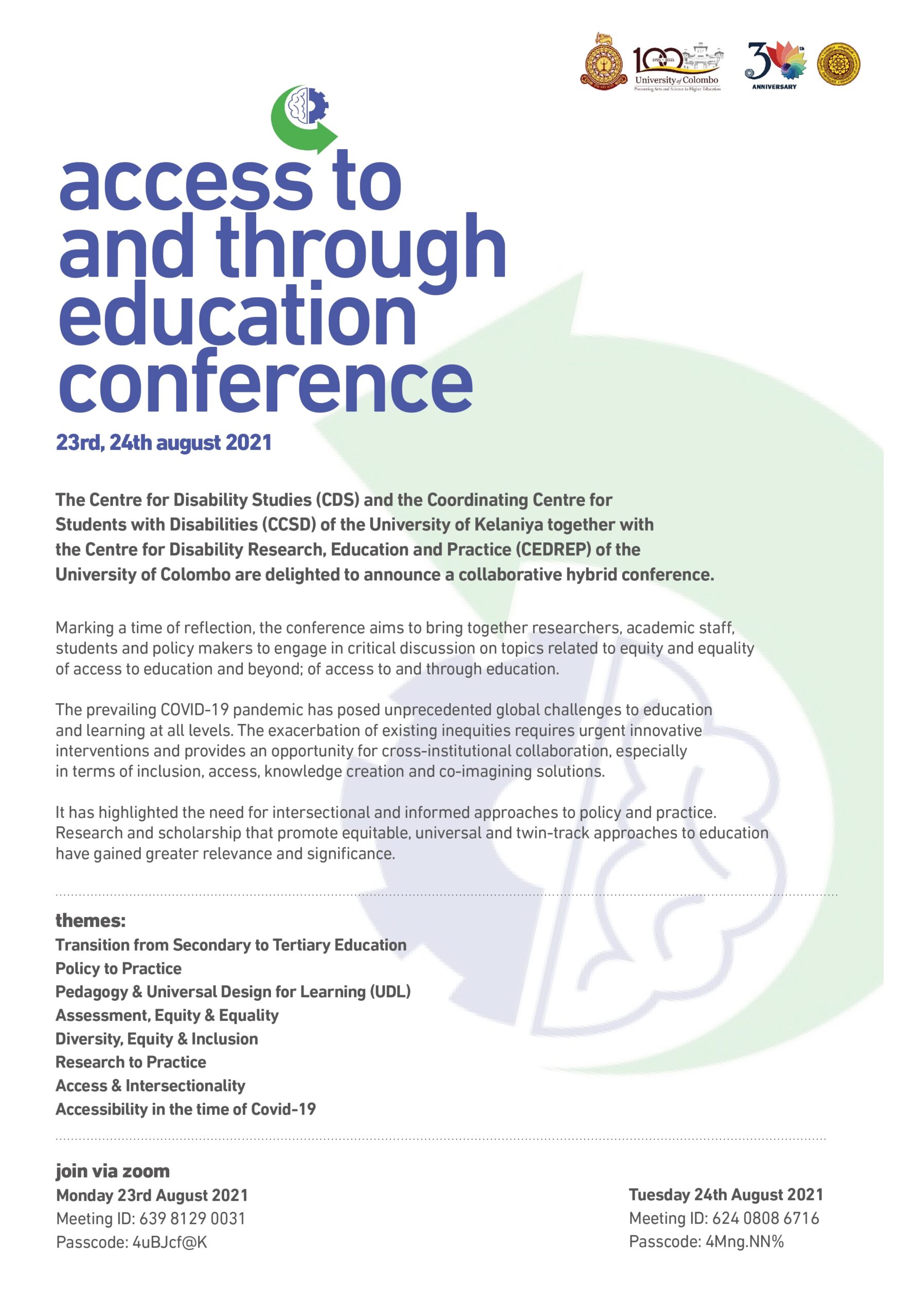 Access to and through Education Conference – 23rd and 24th Aug.
"Access to and through Education" was organised as a joint initiative between the Centre for Disability Studies (CDS) and the Coordinating Centre for Students with Disabilities (CCSD) of the University of Kelaniya and the Centre for Disability Research, Education and Practice (CEDREP) of the University of Colombo on 23rd and 24th of August 2021 via the Zoom Platform.
The University of Kelaniya (UoK) and the University of Colombo (UoC) are pioneer institutions in Sri Lanka for disability scholarship and research. Furthermore, both universities are committed to the admission, inclusion and active participation of students and staff with disabilities. Access to education is a core pillar of an inclusive and equitable society. It is also contingent upon a broader nexus of access including accessible transportation, built environments and student and staff sensitization among other factors. Education also provides a gateway to socio-economic currency, mobility and validity. In many ways education is an access passport to other axes of access such as employment, political participation and informed decision making.
This conference explored the larger ecology of access in relation to education, especially higher education. The conference marked an inaugural collaboration of research and academic capacity and influence between the UoK and the UoC in the field of Disability Studies. It is intended to lay the foundation for further collaboration and cross-university learning and exchange in the future.
The inauguration of the conference was attended by nearly 200 participants. Snr. Prof. Chandrika N.Wijeratne-Vice Chancellor, UoC and Snr. Prof. Lasantha Manawadu-Dean, Faculty of Arts addressed the gathering on behalf of the UoC. Prof Nilanthi de Silva-Vice Chancellor, UoK and Prof. Janaki De S Hewavisenthi-Dean, Faculty of Medicine spoke on behalf of the UoK.
Keynote speech on the first day was delivered by Prof Fiona Kumari Campbell, University of Dundee, UK. She spoke about The Tyranny of Low Expectations: Ableism, Education and Advancement. Dr Janet Price delivered a keynote about Adding Access and Shifting the Norm on the second day of the conference. In addition, presentations on Local Perspectives on Deaf Education, Access to Education during COVID, Pedagogy & Universal Design for Learning (UDL), Access to Education in Sri Lanka: Policy to Practice, Understanding Diversity and Inclusion within a Teleological Reading of Contemporary Pedagogic Practices, Lived Experiences and Perceptions of Disability, Universal Design of Learning (UDL) and Universal Design for Instruction (UDI): From Theory to Praxis were made. Further, forums on Deaf Education, Students' views on Accessibility in Universities, Accessibility Matters: Healthcare during COVID, and a round table discussion on Initiatives at University from within and in collaboration was held. A highlight of the conference was the Student Arts Hour where students with disabilities and students without disabilities from the two universities showcased their talents.