The Certificate Course in Human Resource Management and Business Management
Career Guidance Unit of Faculty of Arts offers a Certificate Course in Human Resource Management & Business Management for 3rd & 4th year students of the University of Colombo
 Objectives
 Upon the completion of this course, the learning partners would be able to:
Understand and realize the localization of the basic concepts of sourcing, developing, rewarding, and retaining talent in organizations while managing the operations.
Recognize and discuss trends and the modernization of the application of strategies to address key issues of managing a business.
Develop and adopt realistic conceptual realities to develop business uniqueness.
Enable the highest level of employability for the participant in modern industrial context
 Medium
Sinhala/English
 Course Content:
Introduction to business
Management in practice
Talent acquisition development and management in practice (HRM)
Functions and operations of HRM
HR information system applications
HRM in Operation
Skills for HR professionals
Duration
03 months
Course Requirements
3rd & 4th year students of Faculty of Arts
150 students will be selected through a selection test
Course is free of charge for the Faculty of Arts students
For more details contact Career Guidance Unit
Email – cgu@arts.cmb.ac.lk
Tele – +94(11) 2505 728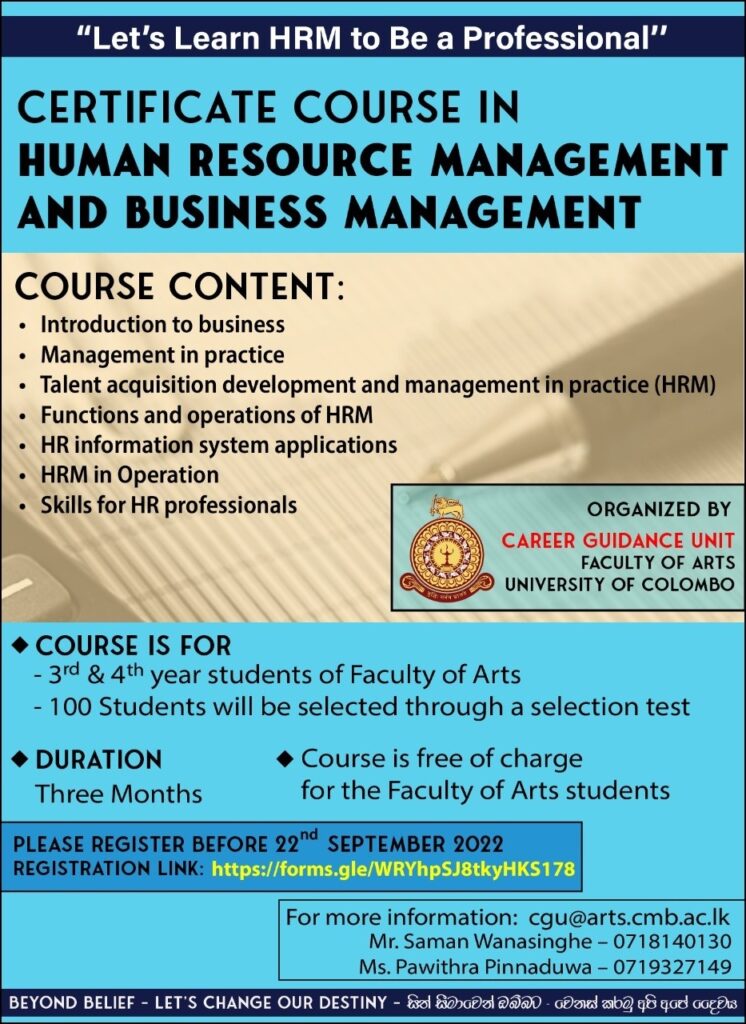 DMP Career + (Plus)
Beyond Graduation Skills Development Programme