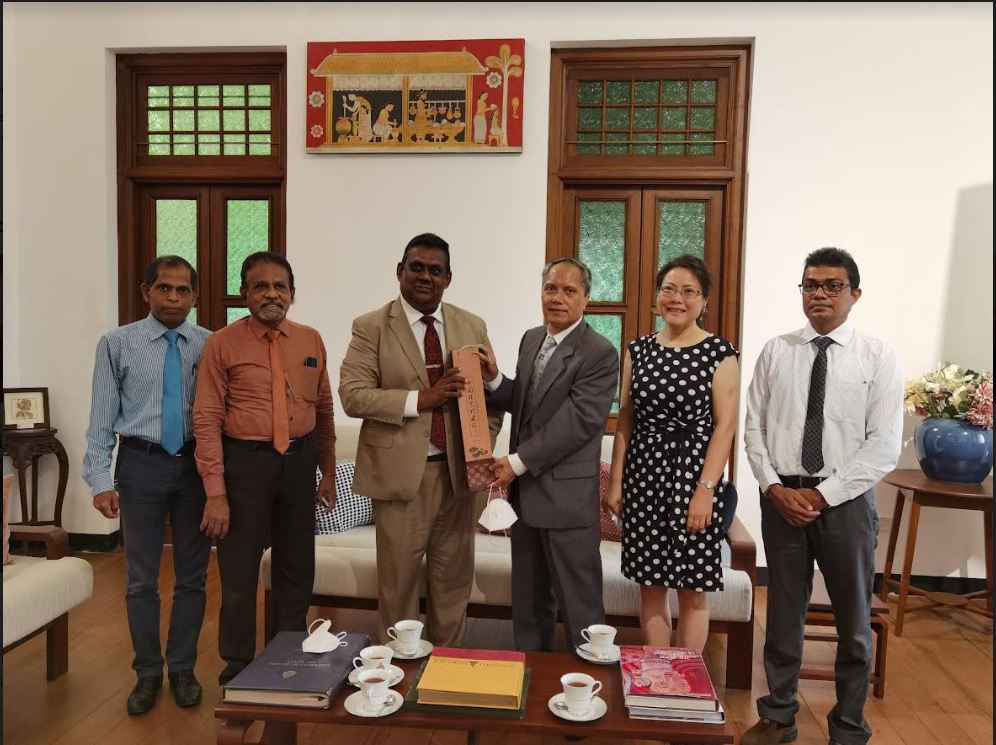 Chinese Cultural Counsellor visited the University of Colombo – 10th June
Mr Zhang Yingbao, Chinese Cultural Counsellor of Chinese Embassy in Sri Lanka and Mrs. Li Qingyui, First Secretary paid a visit to the Confucius Institute at University of Colombo (CIUC) and met the Vice-Chancellor Snr. Prof. H.D. Karunarathne. on 10th June, 2022.  He extends his warm welcome while the two parties exchanged views on educational cooperation of Chinese language.  The Chinese Cultural Counsellor bestowed the printed copy of the first volume of "Colombo Journal for Chinese Studies".
Snr. Prof. Lasantha Manawadu, Dean, Faculty of Arts mentioned that the Confucius Institute has a remarkable reputation for its openness, innovation, and excellence on Chinese education in Sri Lanka. Prof. Wimal Hewamanage, Sri Lanka Director CIUC stated about the history of CIUC, faculty resources and its development. After the discussion, the Cultural Counsellor made his words to establish a friendly relationship and to strengthen exchange cooperation with the intention of promoting Chinese language in the Island.
Snr. Prof. Lasantha Manawadu, Mr. P. M. S. Bandara, Deputy Registrar, and CIUC staff were also collaborated on the sight seeing of CIUC and Faculty of Arts.