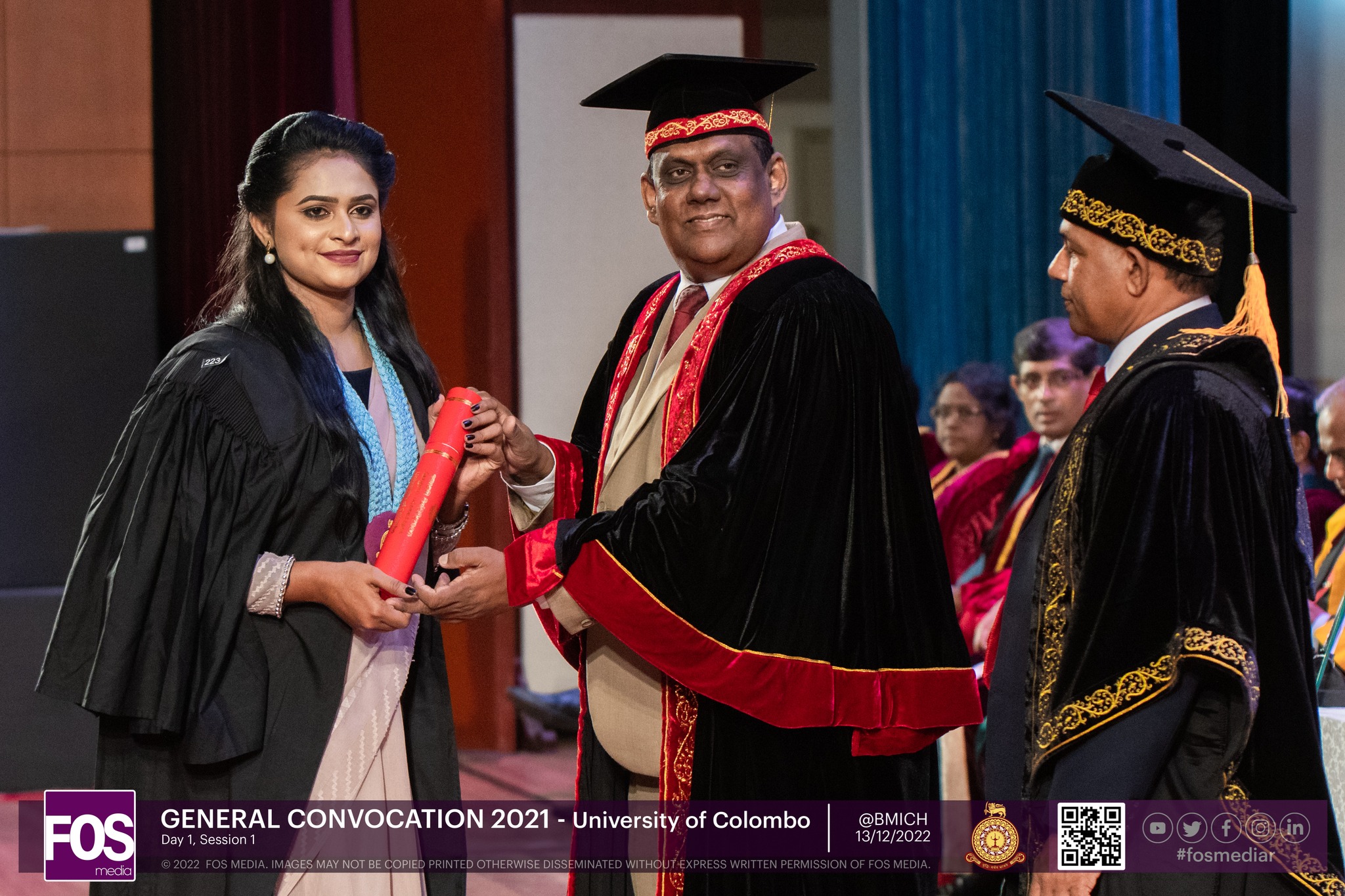 General Convocation 2021 – Faculty of Arts
The University of Colombo held its General Convocation 2021 on 13th & 14th December, 2022 at the Bandaranaike Memorial International Conference Hall, Colombo. The event was graced by the Vice Chancellor, Senior Professor H.D. Karunaratne, Rector, Deans of the Faculties, Directors of Institutes, Registrar, Acting Librarian, Bursar, academic and administrative staff, and graduates.
The Vice Chancellor conferred the BA (Study Stream) and BA (Honours) degrees to the pass out batch of the Faculty of Arts. Gold medals were also awarded to the highly performed students of the faculty.
We congratulate the graduates and wish them all the best to be successful in their respective domain.
Following students of the faculty were awarded Prizes and Gold Medals for their outstanding performance:
Chief Sangha Nayaka of America, Aggamaha Pandit, Dr. Walpola Piyananda Maha Thera Award for the Best Student in Buddhist Studies – K.S.M. PEIRIS and H.K.N. PRIYADARSHANI Jointly
Professor KAP Siddhisena Award for the Special Degree in Demography – W.K.V.P DE SILVA
Professor Indralal De Silva Award – W.K.V.P. DE SILVA
M. W. Jayasuriya Memorial Prize for Economics – W.A.D.H.G. WIJESEKARA
Professor of Economics, Gold Medal for Economics – W.A.D.H.G. WIJESEKARA
The Best First Year Student in Economics – D.G.S.D. RAJAPAKSHA
The Best Second Year Student in Economics – W.A.D.H.G. WIJESEKARA
The Best Third Year Student in Economics – M.F.S. FERNANDO
The Best Student in Economics in the Trade and Industry Stream – J.H.M.K.T. JAYASUNDARA
The Best Student in Economics in the Transport Economics and Commercial Shipping Stream – M.F.S. FERNANDO
The Best Student in Economics in the Economic theory and Applications stream – H.G. VITHANAGE
The Best Student in Economics – W.A.D.H.G. WIJESEKARA
The Department of English, University of Colombo Award for the Best Student of the Special Degree in English – R.S.H. DISSANAYAKE
Department of English, University of Colombo Award for the Best Undergraduate Dissertation – L.M.M. LI
Prof. Yogambikai Rasanayagam Gold Medal in Geography – U.L.A.S. PRIYAKUMARA
Prof. Kusuma Abeysinghe Gunawardana Memorial Award for Geography – K.A.P. PUNSARANI
The Dr. Lorna Dewaraja Award for the Best Undergraduate Dissertation in History – V.N.M. FONSEKA
Mr.& Mrs. SDH Jayawardena Memorial Gold Medal in History – K.R. DE ZOYSA
Tikiri Abeysinghe Memorial Prize for History – K.R. DE ZOYSA
Professor Indrani Munasinghe Award in Sri Lankan History – K.R. DE ZOYSA
Amara Mohotty Memorial Award for the Best Performance at the International Relations – B.A.L. CHULOTHTHAMA
Prof. Shelton Kodikara Award for International Relations – B.A.L. CHULOTHTHAMA
MGA Cooray Award for the Best Dissertation in International Relations – M.R.K. GAYANTHA
Leitan Award for Political Science – I.D. CHETHANA
Professor M.B. Ariyapala Award for Sinhala – T.H.Y.L. UDAYANGANI
Kalabhushana Donu Devindu Mohotty Memorial Prize for the Best Performance in Sinhala – T.H.Y.L. UDAYANGANI
Kalabhushana Donu Devlndu Mohotty Memorial Award for the Best Dissertation in Sinhala – K.M.T.A. WIJEKOON
Professor G.D. Wijayawardhana Prize for Classical Sinhala Literature – T.H.Y.L. UDAYANGANI
Professor kusuma Karunaratne Award for Modern Sinhala Literature – K.K.D. NIMANTHI
Martin Wickremasinghe Memorial Price for the Best Dissertation in modern Sinhala Literature – C.M.K. JAYAWARDAHANA and T.H.Y.L. UDAYANGANI Jointly
Professor M.B. Ariyapala Memorial Prize for the Best Dissertation in Classical Sinhala Literature – M.D.V. DIWANI
N.D.S. Silva Memorial Prize for Sociology – B.A.L.K. PERERA
Prof. Laksiri Jayasuriya Award for the Best Student in Sociology – B.A.L.K. PERERA
Ramani Jayatilake Award for Development Sociology – P.V.M. FERNANDO
Suji Kolambahewa Hettiarachchi Award for the Best Student in Contemporary Social Theory – P.V.M. FERNANDO and B.A.L.K. PERERA Jointly
Neil Bandaranaike Memorial Prize – W.A.D.H.G. WIJESEKERA
Professor Tilak Hettiarachchy Award for the Most Outstanding Student of the Faculty of Arts – H.G. VITHANAGE
Photo Credits: FOS Media