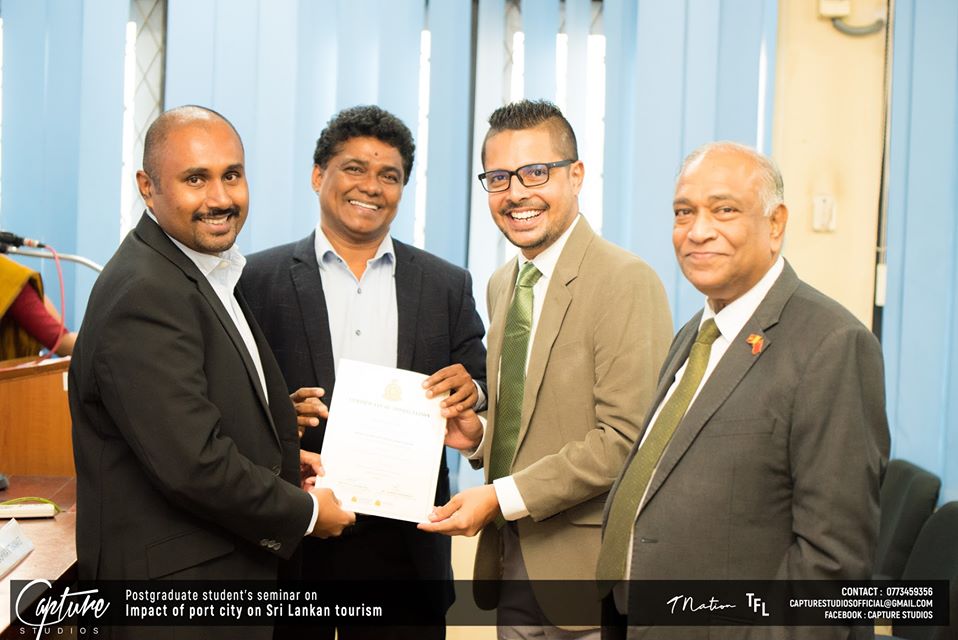 Postgraduate Seminar on 'Impact of Port City on Sri Lanka Tourism' – 12th Jan.
The Department of Economics , UoC organized a postgraduate seminar on 'Impact of Port City on Sri Lanka Tourism', on 12th January 2020 at the Department of Economics under the patronage of Prof. Suranga de Silva, Co-ordinator – Tourism Stuy Programs, UoC.
This Seminar was ended in great success with the participation of Professor Suranga Silva, Professor in Economics, University of Colombo, Mr. Shajeeth Majumudeen, Manager of Sales and Marketing, CHEC Port CITY Colombo and Indrananda Abeysekera, President for Association for Sri Lanka Chian Social & Cultural Association (ASLCSCC) and Maj Gen Nimal Krishnaratne, President of the Alumni Association of Tourism Economics and Hospitality Management (AATEHM), Mr. Sampath Siriwardena, President of the Tourism Research Academic Circle (TRAC), Dr. Mubarak, Co-Chair of International Tourism Research Conference and Tourism Leaders'Summit, Mr. Ratnayake, Former DG SLTDA, Mr. Bandula Sumith, Executive Committee Member of AATEHM, Industry experts and students.
The seminar has revealed the Inspiring Mixture of the Power of Emerging Multiplayer: "Colombo Port City" through a multidimensional analysis by the Students of Postgraduate Diploma Students of Tourism Economics and Hotel Management -2019, Department of Economics, Faculty of Arts, University of Colombo.