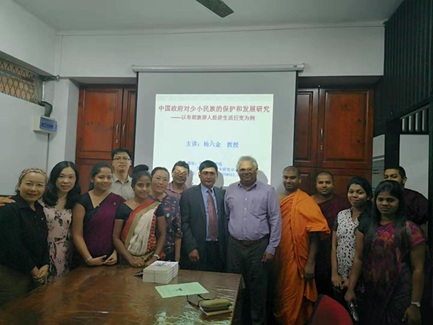 Professor Liujin Yang of Honghe University, China visited the University of Colombo – 13th Dec.
Prof. Liujin Yang and Prof. Qinghua Long from Honghe University, Yunnan Province, China, visited the University of Colombo(UOC) on 13th December 2019, and shared their research in the Mang people of Bulang ethnic group. Senior Prof. Premakumara De Silva, Dean of the Falcuty of Arts, Dr. Ven.U. Ananda, Head of the Department of Buddhism and Dr. Wimal Hewamanage, Senior Lecturer, welcomed Prof. Yang and his team member. The Department of Buddhism hosted the seminar. The Chinese Director and all teachers of the Confucius Institute participated in the activity.
Prof.Yang gave an academic speech titled as "The Chinese Government's Policy on the Protection and Development of the Minority –A Case Study on the Development of the Mang People of the Bulang Ethnic Group ".
The report and the following communication and discussion generated a mutual interest in the comparative research in the life and culture of the ethnic groups both in Chin犀利士
a and Sri Lanka. Prof. Yang and Senior Prof. Premakumara De Silva discussed the prospect of academic research collaboration with the assistance of the Confucius Institute at the University of Colombo.