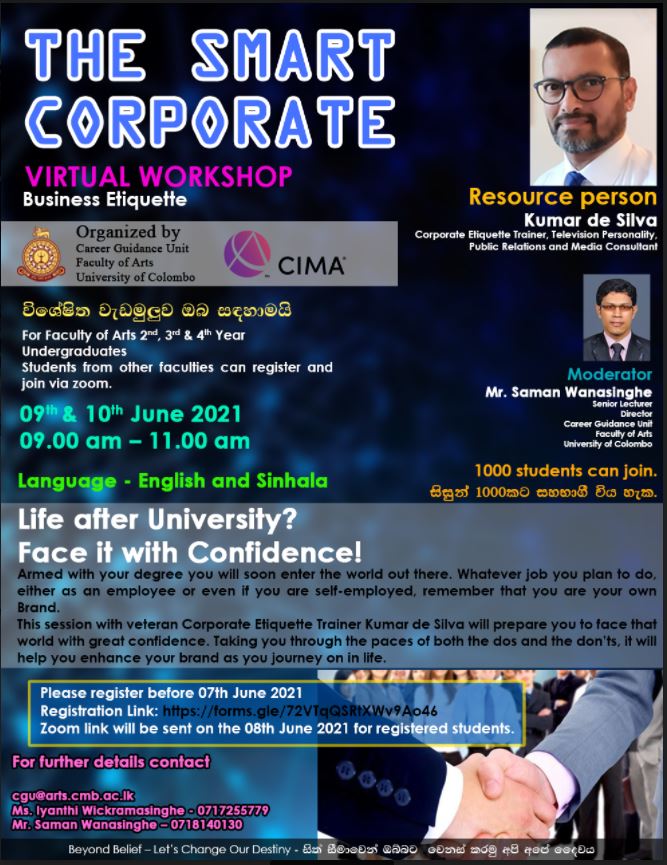 Virtual Workshop on Business Etiquette – 09th- 10th June
THE SMART CORPORATE
BUSINESS ETIQUETTE
  VIRTUAL WORKSHOP
  විශේෂිත වැඩමුලුව ඔබ සඳහාමයි.
Language – English and Sinhala  
Life after University?
Face it with Confidence!
Armed with your degree you will soon enter the world out there. Whatever job you plan to do, either as an employee or even if you are self-employed, remember that you are your own Brand.
This session with veteran Corporate Etiquette Trainer Kumar de Silva will prepare you to face that world with great confidence. Taking you through the paces of both the dos and the don'ts, it will help you enhance your brand as you journey on in life.
09th & 10th June 2021
08.45 am – 11.00 am
For Faculty of Arts 2nd, 3rd & 4th Year Undergraduates
Students from other faculties can register and join via zoom.
Please register before 07th June 2021
Registration Link: https://forms.gle/72VTqQSRtXWv9Ao46
Zoom link will be sent on the 08th June 2021 for registered students
1000 students can join (සිසුන් 1000කට සහභාගී විය හැක)
For further details contact: cgu@arts.cmb.ac.lk
Ms. Iyanthi Wickramasinghe – 0717255779
Mr. Saman Wanasinghe – 0718140130
Beyond Belief – Let's Change Our Destiny
සිත් සීමාවෙන් ඔබ්බට – වෙනස් කරමු අපි අපේ දෛවය
Organized by
Career Guidance Unit
Faculty of Ar犀利士
ts
University of Colombo