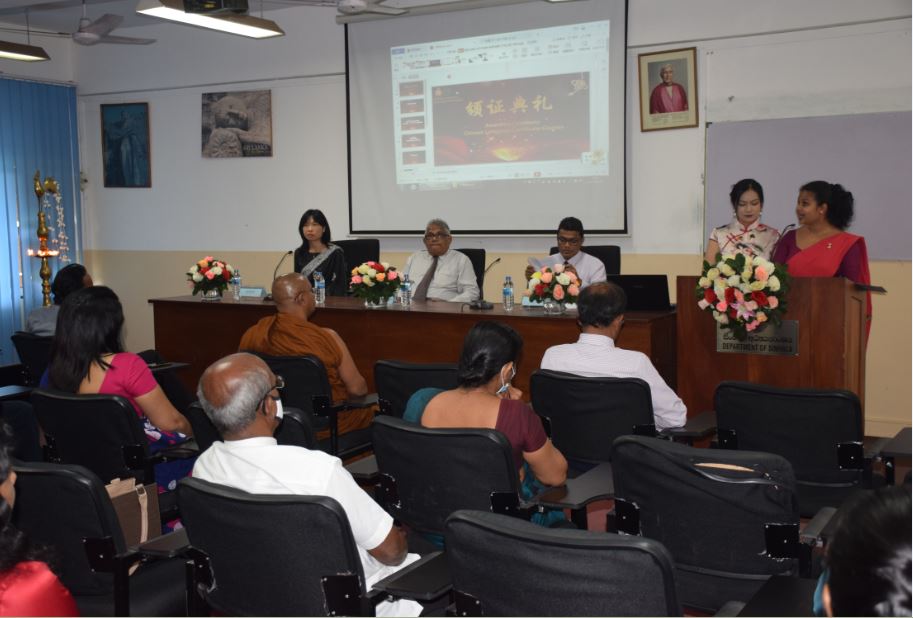 Awarding Ceremony – Certificate Course in Chinese Language -29th Sept.
The certificate awarding ceremony of the 'Certificate Course in Chinese Language 2018/2019' of the Confucius Institute, University of Colombo (CIUC)was held on 29th September 2020 at the M. B. Ariyapala Auditorium, Faculty of Arts. This is the first certificate awarding ceremony since 2018.
The Dean, Faculty of Arts, Senior Professor Premakumara de Silva, the Deputy Registrar Mr. P. M. S. Bandara and the Heads of Departments and guests were attended the ceremony and witnessed the achievements of the students of the Chinese Certificate Program and encouraged all teachers and students to continue their efforts.
Dean of the Faculty of Arts, Senior Professor Premakumara de Silva added the greetings of the Vice Chancellor, Senior Professor Chandrika N Wijeyarathne and highlighted the necessity of foreign language learning for development. With the steady development of communication between Sri Lanka and China, learning Chinese language has become the new mainstream of foreign language learning. It cannot only broaden one's international horizons, but can expand the personal career space, and add new impetus to the development of the country.
Dr. Wimal Hewamanage, the Sri Lankan Director of CIUC, said that the Confucius Institute will continue to provide good service of Chinese language and culture communication, in the welcome speech. Chinese Director, Professor Huang Wei expressed heartfelt congratulations to all the students, and gratitude for the strong support of the Faculty and all the efforts of the teachers of CIUC.
On behalf of all the students, Ms. Randula appreciated the CIUC as the best Chinese learning platform in the country. She said that CIUC provided good facilities and all teachers cared so much about them. She also mentioned that as students, they have enjoyed the rewarding Chinese language courses with Chinese culture.  The students presented the Chinese song "Song and Smile" to express the friendship and best wishes for Chinese learning.